A Dinosaur Light Show Paired With an Okonomiyaki Meal is a Once in a Lifetime Experience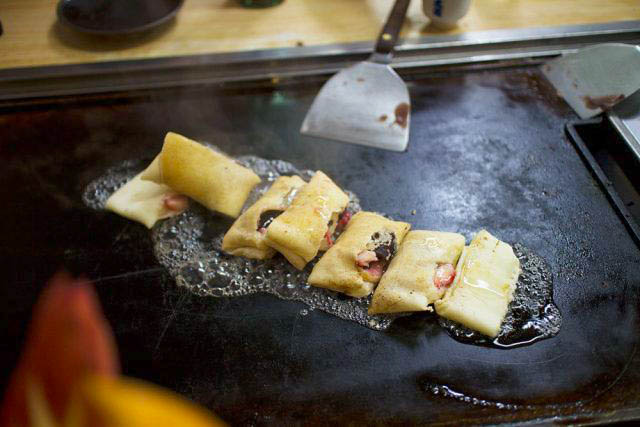 A Dinosaur Light Show Paired With an Okonomiyaki Meal is a Once in a Lifetime Experience
You're walking down what seems to be a normal Japanese shopping street that possesses some slight retro vibes until you find a store with dinosaurs drawn over tiles. That is when you drop everything you're doing and stare (examine might be a better word). This was our initial reaction (and a typical one at that) when coming across Okonomiyaki 110, located 5 minutes away from Akado Shogakko-mae station on the Nippori-Toneri Liner.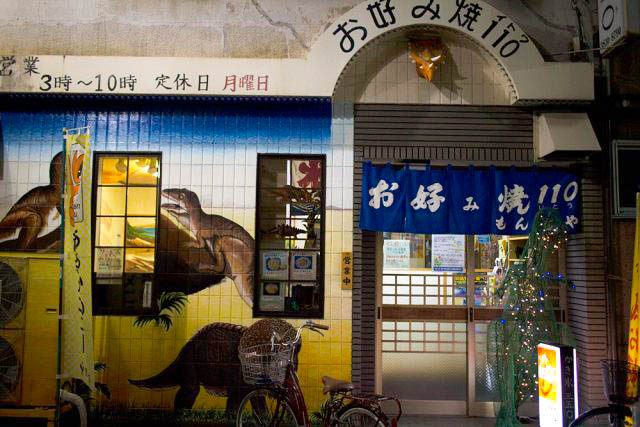 The dedication towards designing a restaurant that is fully-decked out with dinosaurs is nothing short of impressive. As you come close to the entrance, you can't help but ignore the green-wired dinosaur that somewhat resembles a Christmas tree with its cute light-up. The dino decor obviously does not stop there — once you step inside, paper-made dinosaur replicas are spotted hanging from the ceiling and attached to the wall. The chef, who seemed to be the only one working the kitchen, told us that everything was crafted by himself, including the impressive paintings on the walls.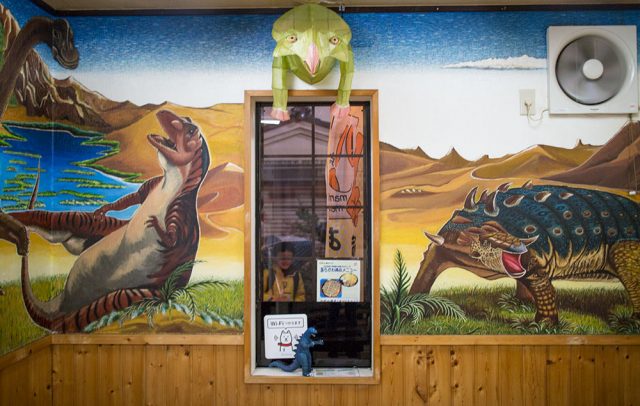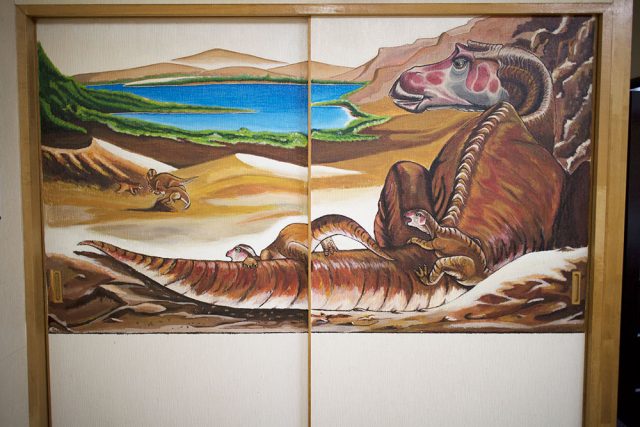 After being seated, our eyes were subconsciously searching for an Okonomiyaki (Osaka's soul food, think: savory pancake) and/or Monja (Tokyo's downtown soul food, though it looks like puke on a plate, we swear it's delicious) named after a dinosaur, and the restaurant obviously did not disappoint.
We quickly ordered the Tyrannosaurus Monja and the Pteranodon Okonomiyaki. However, the Tyrannosaurus Monja did not look at all like a Tyrannosaurus; it was a savory monja with a lot of sausage. The Pteranodon Okonomiyaki, on the other hand, took us by surprise by its looks. On the side of the table lay three pieces of pork drenched in what seemed like watered down flour, with a bowl of at least four whipped eggs. Confusion ensued at the table, but the chef told us he would cook this one for us. As it turned out, it was a thin pancake-like okonomiyaki encased in fried egg. The chef had informed us pre-cooking that it would be a pizza-like okonomiyaki so the end result didn't quite match what we'd imagined, but it ended up being quite delicious. He had also entertained us with his quirky personality, throwing around jokes that he was born in Africa while he cooked our meal.
It was 8:30pm and the lights suddenly dropped. This signaled the start to Okonomiyaki 110's popular attraction, the dinosaur light up show! The restaurant was crowded with children who seemed to live in the neighboring areas, who were quick to take out their smartphones to document the neon-dinosaur-lightup. To much surprise, the dinosaurs attached to the wall/hung from the ceiling started moving in unexpected directions (be careful, they will fall down on you and you will not be warned). With a slightly creepy voice saying "see you later (matane)" the light show came to a close. What a beautifully bizarre experience! If you're here to be weirded out by Japan's aesthetics, the Robot Restaurant is great, but this restaurant is a great runner-up and we're not even kidding.
To end this amazingly peculiar meal experience, we ordered two desserts: a fruit parfeit and an Anko-Maki (Red Bean Paste Rolls), and were pleasantly reminded that Japanese desserts are beautifully crafted. I mean, look at the way that orange is cut.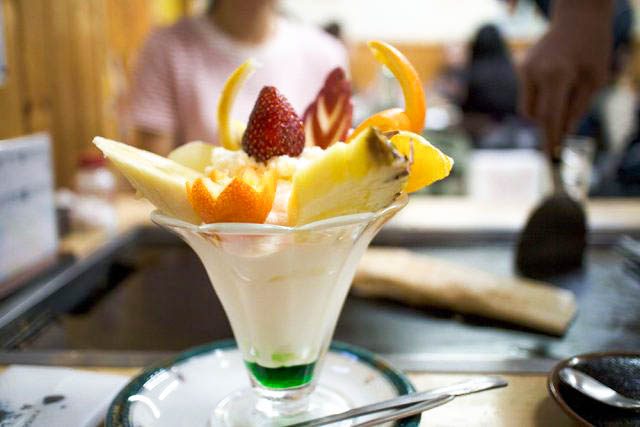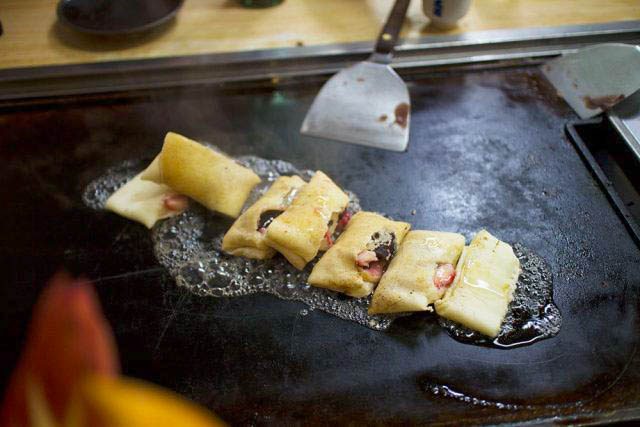 If you're going to make your Japan trip weird, go all out by making your way to Okonomiyaki 110. It will not disappoint.
P.S. The toilet has no dinosaur decorations, so if you need to get away from dinosaurs for a while, there's that.
Restaurant info
Okonomiyaki 110 (Read: Itou)
Tel
03-3810-8790
Address
3-24-1 Higashiogu Arakawa Tokyo
Transportation
5 min. walk from Akado Shogakko-mae (Toneri Liner)
Hours
3pm-10pm (Open on Sundays)
Holiday
Monday
URL
https://tabelog.com/en/tokyo/A1324/A132401/13077486/ (unofficial)