Say Hello to Godzilla Right Before Catching a Movie, or Score Yourself a Sleepover With him Instead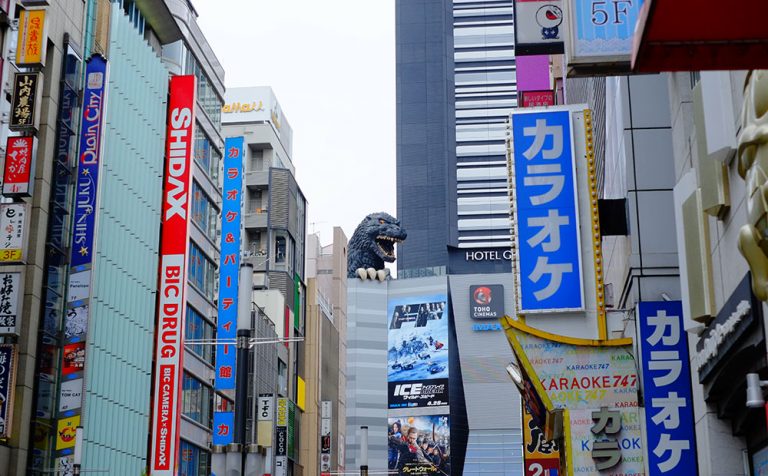 Say Hello to Godzilla Right Before Catching a Movie, or Score Yourself a Sleepover With him Instead
Though it's been as long as 63 years since Godzilla was first witnessed stomping all over town in its terrifying physique, Godzilla has, to this day, remained a symbol of childhood to many — both the young and the elderly — in Japan and across the globe. This is enough of a reason to get excited to witness a life-size Godzilla sticking its head from the 8th floor of Hotel Gracery Shinjuku, located atop TOHO Cinemas Shinjuku. It also helps to know that this Godzilla is stationary unless it happens to perform some Toy-Story-action at night, but this is one of the rare occasions that we're delighted we don't live in a fantasy world where anything is possible.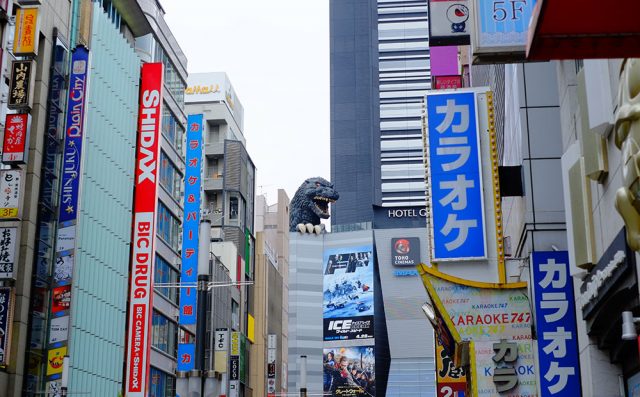 To get close to this monstrous dino that's about to tear the building apart, walk down the road that's appropriately named "Godzilla road," running on the left of everybody's favorite discount store: Don Quijote!
For Godzilla fans that are weeping because that's not close enough, Hotel Gracery Shinjuku offers a "Godzilla Room" where your window view is literally the eye of Godzilla, peeping into your room. You don't even get the full face view because he is that close. The amusement doesn't stop there because for one, you get your own Godzilla (a little less than 2m high) in the room (he performs an incredible light show when you turn on the TV and turn off all the lights) as well as a huge Godzilla paw that fills up the back wall, hovering over you while you sleep. The bathroom is apparently set up to look like a operation commands room on a fighter ship once you turn off the lights, and they give you a goodies bag filled with Godzilla items (a figure of Godzilla destroying Shinjuku, a fictional incident you're glad never happened) that you can only receive if you stay in the Godzilla room. Prices are ¥49,800 on weekdays and ¥59,800 on weekends, and days that precede holidays/weekends. To make a spontaneous booking of this room-turned-theme-park, do so here (only in Japanese).
Info
Godzilla Head at Hotel Gracery Shinjuku
Address
Kabukicho 1-19-1 Shinjuku Toho Bldg, Shinjuku, Tokyo (click to open map)
Transportation
5 min. walk from Shinjuku Station (JR East Exit)
Read about the Godzilla Room here:
http://shinjuku.gracery.com/godzilla-view-room